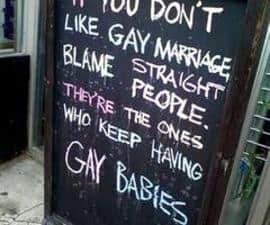 Take these numbers and multiply them by what you know of Fox News:
According to a Fox News poll released Wednesday, 37 percent of voters believe gays and lesbians should be allowed to get married legally. While that's unchanged from 2010, when the question was most recently asked, it's nearly double the 20 percent who felt that way in March 2004, the first time it was asked.

On the other hand, the poll finds 25 percent think there should be no legal recognition given to gay and lesbian relationships, down from 28 percent in 2010 and a high of 40 percent in 2004.

The remaining one third (33 percent) think same-sex couples should be allowed a legal partnership similar to but not called marriage. While that number has bounced around a bit over the years, 33 percent also favored this middle-ground position in 2004. 
But let us all remember that polls are capricious and often wrong.