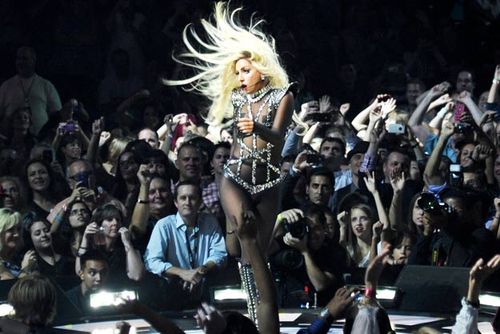 There shall be no Born This Way Ball in Indonesia.
After clerics in Jakarta spent several weeks fuming and fretting over the social implications of allowing Lady Gaga, lover of sodomites and revealer of body parts, to perform in the world's largest Muslim country, Gaga's security team was so inundated with threats and portents that they forcibly canceled the concert.
The pop diva appeared to acknowledge [the situation] in a post on Twitter on Saturday: "There is nothing Holy about hatred."

Islamists and conservative Muslims have decried Lady Gaga's upcoming concert, saying her revealing costumes and sensual dance moves are forbidden by Islamic law.

The chairman of the Islamic Defenders Front, Habib Rizieq, said his group could not guarantee security if the concert were held.

Indonesia has the largest Muslim population in the world.

In March, the pop star got a thumbs-down by the country's highest Islamic authority, according to The Jakarta Globe.

Indonesian Council of Ulema chairman Cholil Ridwan was urging Muslims not to attend the controversial singer's upcoming concert in Jakarta, the newspaper reported.

"(The concert is) intended to destroy the nation's morality," Ridwan told the Globe.
I think Ridwan is correct: Lady Gaga probably did direct the Born This Way Ball toward Indonesia, in part, because she dislikes what passes for sexual morality there. What's mystifying is why Indonesian clerics, despite their vast power, would feel threatened by a 26-year-old pop singer from the Lower East Side. They've allegedly got God on their side, and righteousness, and culture and history and whatnot. With so much going for them, why should they become unmanned by a few pop tunes and a bit of latex?