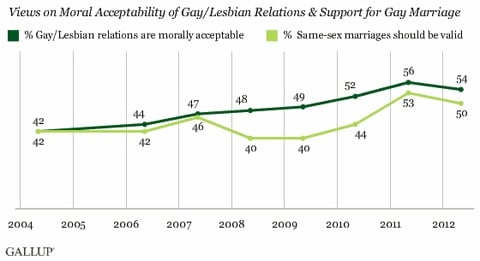 Gallup put out some new data today and said "U.S. Acceptance of Gays/Lesbians is the New Normal":
The slight majority of American adults, 54%, consider gay or lesbian relations morally acceptable. Public acceptance of gay/lesbian relations as morally acceptable grew slowly but steadily from 38% in 2002 to 56% in 2011 and is now holding at the majority level.
This Gallup trend mirrors the growth in public support for legalizing gay marriage, which has risen from 42% support in 2004 to 50% or greater support in the last two years. Americans' support for gay rights on both questions leveled off in this year's Values and Beliefs poll, conducted May 3-6.
Gallup's longer-term question measuring U.S. attitudes about gays asks whether gay or lesbian relations should or should not be legal. The 63% now saying gay relations should be legal nearly matches the record-high 64% of a year ago, which came after a long-term increase in support for legality from 32% in 1986.
More at Gallup.