The NYT reports that immediately after making his endorsement of same-sex marriage last week Obama reached out to evangelical pastors in order to assure them that his announcement was not an attack on religious liberty: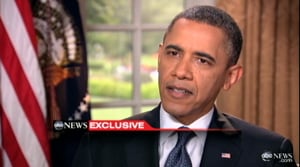 In the hours following Mr. Obama's politically charged announcement on Wednesday, the president and his team embarked on a quiet campaign to contain the possible damage among religious leaders and voters. He also reached out to one or more of the five spiritual leaders he calls regularly for religious guidance, and his aides contacted other religious figures who have been supportive in the past.
The damage-control effort underscored the anxiety among Mr. Obama's advisers about the consequences of the president's revised position just months before what is expected to be a tight re-election vote. While hailed by liberals and gay-rights leaders for making a historic breakthrough, Mr. Obama recognized that much of the country is uncomfortable with or opposed to same-sex marriage, including many in his own political coalition.