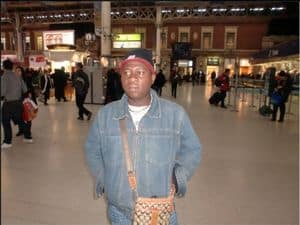 Ediage Valerie Ekwedde's life, which was probably never very easy, allegedly became a great deal more difficult when he celebrated his last birthday at a bar in Yaounde, in his native Cameroon. In a moment of drunken indiscretion, it seems he briefly caressed his boyfriend — an illegal act in Cameroon, which in this case inflamed the bars' other customers and led to Ekwedde's arrest, his beating at the hands of the police, and — after several days spent bleeding in a jail cell — in a trip to a nearby hospital. 
Once there, 26-year-old Ekwedde managed to give the slip to his doctors, his jailers, and to Cameroon itself. He escaped to Europe, and then to the UK, where he made friends and entered a new relationship. But he was an illegal immigrant, and the UK Border Agency didn't mean to grant him amnesty. Despite letters from Ekwedde's boyfriend, the Border Agency claimed to find "no credible evidence" that Ekwedde is gay, and therefore no compelling human rights concern to prevent the Border Agency from sending Ekwedde home — where, even if he's not gay, all the claims to the contrary in the western press could very likely result in his imprisonment.
Ekwedde was to be flown back to Cameroon in chains on Saturday morning aboard an Air France jet. To forestall the deportation, Ekwedde's friends have bombarded the airline in recent weeks with letters containing this appeal:
The Cameroon High Commission in London is given a list of people due to be removed on European Union travel documents and this list is sent on ahead of the flight to the police in Cameroon. [Upon his arriva in Cameroonl, Ekwedde] would certainly be arrested and subjected to brutal treatment and is unlikely even to emerge from the airport after being handed over by the UKBA escorts.

Air France is a highly reputed airline carrying willing passengers to destinations all over the world. Air France is not an arm of United Kingdom Border Agency (UKBA), carrying out their immigration enforcements.

In the light of the UKBA's acknowledgement that "Airline captains have the right to refuse carriage of a passenger and will do so if they feel appropriate for security or commercial reasons", I urge Air France not to carry out this forced removal of Ediage Valerie Ekwedde.
Incredibly, the letters may have worked. Last night, the BBC reported that Ekwedde's plane took off without him:
Air France said its 07:10 BST flight was delayed on Saturday morning due to "operational difficulties".

Campaigners said [Ekwedde] managed to get a message to the Air France pilot saying that he would "make a fuss" because his life was in danger.

The pilot is said to have abandoned the flight out of consideration for other passengers.
… or maybe Air France has a heart, but doesn't want to anger British law enforcement.
Regardless, Ekwedde's still in the UK, at least for the moment — probably at the Harmondsworth Detention Center near London. If you think he should be allowed to stay in the country, please let the Secretary of the Home Office know. That's the Rt. Hon Theresa May, MP, and she's reachable at mayt@parliament.uk.