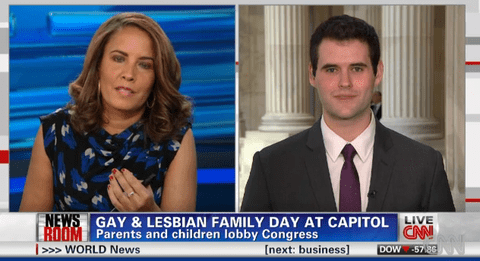 Dozens of same-sex families headed to Washington today to lobby lawmakers as part of the Family Equality Council's push to evolve more politicians toward equality. And one of the participants was none other than Zach Wahls, the Iowa college student whose impassioned defense of his two mothers before Iowa lawmakers last year made him a star.
Today, appearing on CNN, Wahls said that the only way the country can move forward on equality is if we start breaking down far-entrenched barriers between right and left."The fact is that not all people who are opposed to same-sex marriage are bigots or hateful or ignorant," said Wahls, who met with Republican Sen. Chuck Grassley today.
He went on: "Likewise, not all people who support marriage equality are godless, colonizing sodomites. So I think if we can move past some of these stereotypes on both sides, we're able to have this real conversation and understand that at the end of the day, my family isn't looking for some radical change to the law, we're looking for due process and equal protection."
Family Equality Council executive director Jennifer Chrisler remarked to NPR: "The 12 states where [same-sex] couples are most likely to be raising kids are states like Mississippi and Montana and Kentucky and Louisiana. And those are the states that actually have some of the worst policy."
South Carolinian gay couple Tommy Starling and Jeff Littlefield and their daughter, Carrigan, also participated the event, which was planned before President Obama came out for same-sex marriage, and told CNN that they hope seeing so many families would help change some lawmakers' minds.
"Now that we have Carrigan in our lives, people's minds are changing," said Starling. "They see her; they see us in the PTA functions; they see us in the community, going to the school, so we have a different group of friends, and everybody's hearts and minds are opening to seeing that we are a family just like theirs."
That's precisely what Jane Lynch was telling Rachel Maddow.
Watch Wahls' appearance on CNN, AFTER THE JUMP…