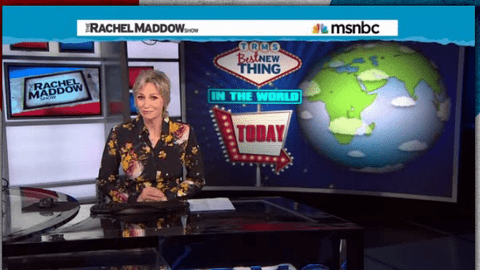 Jane Lynch filled in for Rachel Maddow during the MSNBC host's "Best New Thing In The World" segment last night. And the out actress was kind enough to bring along her own new thing suggestion: the memo from former Bush pollster Jan van Lohuizen advising Republicans to catch up on LGBT rights by presenting equality as a conservative value.
According to Lynch, the memo has the potential to create some jobs, another conservative value, because strategists can now charge more money for their gay expertise. "There's money to be made on promoting gay rights within the Republican Party," she said.
Someone is going to have to teach Republicans to talk about gay rights without seeming like they've caved to the Democrats. Some strategists are going to have to make it their specialty to teach Republicans how do be pro gay while still sounding angry. That's a very tall order, but the good news is, you can charge more money.
Republicans are trying to figure out how to lose gracefully — the best new thing in the world today.
Lynch later tells Maddow that she's not sure Obama's equality proclamation will "change history," or whether there was "political calculus" involved, but "believes in the dignity of our relationships and our right to exist." And the actress also discusses the importance of being out and about with her family, Joe Biden's comment about Will and Grace changing American culture and had this to say about Mitt Romney's right-wing gay politics: "Even us talking together right now, he's probably against that."
Maddow replied: "That's exactly right. It`s probably illegal somewhere, and he supports that state`s right to make it that way."
Watch the entire segment, AFTER THE JUMP.