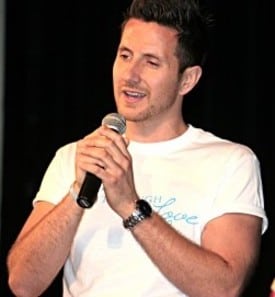 "My motto in life is dream, believe, become. If you dream it and you believe it you can become it," Dominic Sheahan-Stahl said in a speech to about 700 people at Central Michigan University yesterday.
Sheahan-Stahl, you'll recall, had been invited to deliver the commencement speech at his little brother's graduation from Sacred Heart Academy, the Mt. Pleasant school three generations of his family attended, but was disinvited after officials at the Catholic school found out Sheahan-Stahl is gay.
Rather than bowing out of the fight, though, Sheahan-Stahl posted an emotional YouTube video explaining his disappointment and eventually scheduled the CMU gig.
"You know those moments in your life that don't happen often. But the moment when something happens it starts in the pit of your stomach and creeps into your heart and it fills your whole body? I felt that feeling when I got my first professional job and I felt that feeling the moment I was asked to be the commencement speaker of the 2012 graduation class of SHA," Sheahan-Stahl, wearing a shirt that read "Live Through Love," said during his speech. "I want you to know that feeling has never ever left me."
Sheahan-Stahl, an actor working here in New York City, also gave the crowd some very valuable advice: "To compare is to despair."
"Am I a failure because all of my friends are on Broadway?  To compare is to despair. My life, like your life, is my own and it has its own direction, time and pace," he instructed his supportive audience.
Midland Daily News provides a few more details:
At the end of his speech he had the entire audience repeat after him — "the world needs what I have to give."

"Never ever, ever forget that because every single one of you in this room and every person in this world was put on this earth for a reason. You're all wonderful, you're all amazing and you all matter," Sheahan-Stahl said.

He received a standing ovation.

"Always live through love and always remember that no one is outside the love of God."
Even if one doesn't agree with Sheahan-Stahl's religious message, it's hard to argue with the fact that he's spreading some pretty good word.