Richard Grenell, Mitt Romney's recently appointed openly gay spokesman, has resigned in the wake of a campaign by social conservatives, the Washington Post's Jennifer Rubin reports.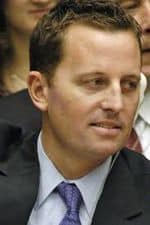 Said Grenell in a statement:
I have decided to resign from the Romney campaign as the Foreign Policy and National Security Spokesman. While I welcomed the challenge to confront President Obama's foreign policy failures and weak leadership on the world stage, my ability to speak clearly and forcefully on the issues has been greatly diminished by the hyper-partisan discussion of personal issues that sometimes comes from a presidential campaign. I want to thank Governor Romney for his belief in me and my abilities and his clear message to me that being openly gay was a non-issue for him and his team.
Adds Rubin: "According to sources familiar with the situation, Grenell decided to resign after being kept under wraps during a time when national security issues, including the president's ad concerning Osama bin Laden, had emerged front and center in the campaign."
The American Family Association's Bryan Fischer was among those leading the charge.
Argued Fischer in a CNN appearance: "Well, the point here is that personnel is policy. Everybody in D.C. says that. Personnel is policy. When Governor Romney picks somebody who is an activist homosexual and puts him in a prominent position, he's sending a shout out, it seems to me, to the homosexual lobby."
Grenell had also been criticized for his sexist tweets (which were deleted from his account).
Get all the Towleroad headlines first – follow us on Twitter @TLRD.