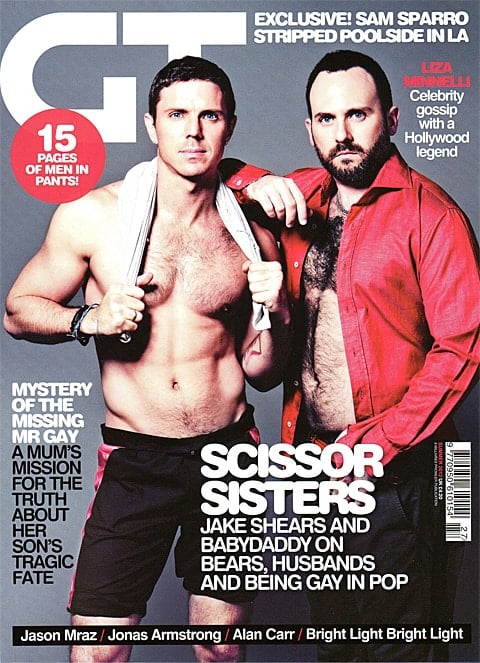 Jake Shears and Baby Daddy give good chest on the new cover of the UK's Gay Times.
They also get a nice write-up in London's Evening Standard:
"Jake, 33, was raised on San Juan Island, just north of Seattle, and came out as gay at school, before telling his parents: 'Although, if they were surprised by anything, then they were in some deep denial,' he says. 'I was a very effusive, verbose, effeminate, wacky kid.' One early brave turn came during a high school talent show when he sang 'I Will Always Love You' in a wig, adopting the persona of 'Whip Me Houston'. His largely Mormon classmates practically chased him out of town with pitchforks. He met Babydaddy (originally from Lexington, Kentucky) through a classmate while studying journalism at Occidental College in LA. The pair moved to New York where Jake spent a year or two as a go-go dancer and did a cabaret turn as Jason the Amazing Back-Alley Late-Term Abortion, covered in blood and coat hangers. They set up Scissors as a duo before meeting Ana at Knockoff, a Lower East Side cabaret night she was running. They auditioned for a drummer and bass player and Scissor Sisters was born."