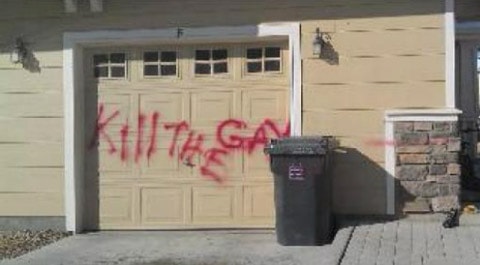 Last November, Andy reported on the sad story of Aimee Whitchurch and Christel Conklin; a lesbian couple in Parker, CO, whose ongoing dispute with their homeowner's association led to what appeared to be a hate crime. The women claimed they awoke one morning to find "KILL THE GAY" spray-painted across their garage door and a noose on their doorstep.
Now, police have determined that Whitchurch and Conklin most likely vandalized their own house. From KDVR:
"Through the investigation and from witness statements, it was determined that allegations of the incident were false," said Douglas County Sheriff's Office spokeswoman Cocha Hedyen. "Detectives were able to determine that the two women involved were responsible for the words that were spray painted on the garage and the placement of the noose on their own front door."

Whitchurch faces two counts of Criminal Mischief, one count of Forgery and one count of False Reporting. She was expected to surrender to authorities Thursday afternoon, Heyden said.
Conklin was in custody facing two counts of Criminal Mischief and one count of False Reporting.
At the root of the couple's clash with the HOA: Complaints that the women didn't pick up after their dogs.