Keaton Fuller, a student at Prince of Peace Catholic School in Clinton, Iowa, was encouraged by his school to apply for a $40,000 scholarship awarded to LGBT students. Fuller applied and was awarded the scholarship, but the school that told Fuller to apply for the prize won't let the foundation's representative present it to him, the AP reports: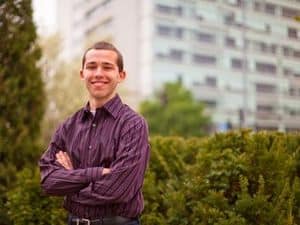 Bishop Martin Amos in Davenport said the Eychaner Foundation would not be allowed to present the Matthew Shepard Scholarship to Keaton Fuller during the May 20 ceremony at Prince of Peace Catholic School in Clinton, saying the group's support for gay rights conflicts with church doctrine.
The announcement comes after a school official signed a document last month that promised to let a representative of the foundation's scholarship committee present the award to Fuller.
Writes Fuller, in an open letter to The Prince of Peace Student Body and Staff:
This past March, I was made aware by our school of an incredible scholarship opportunity. The Matthew Shepard Scholarship is awarded to a few LGBT students across the state of Iowa each year by the Eychaner Foundation in honor of a young man who was beaten and later died because of his sexual orientation. The purpose of the scholarship is not only to honor the recipients for their efforts working for the acceptance of the LGBT community, but also to raise awareness and understanding throughout the state.
After becoming one of eight finalists interviewed, I was very excited. The moment I was told that I had been awarded a 2012 Gold Matthew Shepard Scholarship was one of the happiest of my life. It made me feel that my efforts had truly paid off. When word got around about this achievement, I received a great deal of praise from many of you, for which I am extremely grateful.
Part of receiving this generous scholarship includes having a member of the scholarship committee present the award at each student's graduation or awards ceremonies. This protocol was communicated to the school as part of the scholarship materials and the scholarship committee received written confirmation that should a scholarship be awarded, a representative from the scholarship committee would be allowed to present it in person to me at graduation. Upon being selected for the award in very early April, the scholarship committee wrote to the school confirming that a committee member would present the award on May 20th.
However, on Friday, April 27th, my family and I were told by the school that a member of the foundation would not be permitted to present this award at graduation. The scholarship committee has not been notified of this decision and my family has been put in the middle, so my family has asked for a reversal of the decision.
Fuller plans to attend the University of Iowa on his scholarship.
There's a Change.org petition asking the school to allow Keaton to receive his award from the Scholarship Committee, with dignity.
More at the Quad City Times…