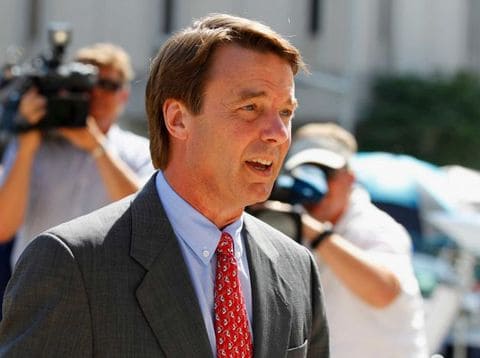 A North Carolina jury found john Edwards not guilty on one count of campaign finance fraud today and a mistrial was declared for the other five charges, all of which stemmed from accusations that Edwards' 2008 presidential campaign knowingly took illegal contributions to hide a pregnant mistress from his terminally wife.
The jury originally told the judge they were hung on the 5 counts, but she ordered them back into deliberations, leading to the 5 mistrials. Edwards, a former senator and White House hopeful, expressed both relief and shame during his post-verdict remarks.
"While I do not believe that I did anything illegal, or even thought I was doing anything illegal, I did an awful, awful lot that was wrong," he said. "There is no one else responsible for my sins."
"I am responsible. And if I want to find the person who should be held accountable for my sins … it is me and me alone."
After thanking daughter Cate for her ongoing support and declaring his love for all of his children and his parents, Edwards told the gathered reporters, "I don't think God's through with me. I really believe he thinks there are still some good things I can do."
Watch Edwards' remarks AFTER THE JUMP.