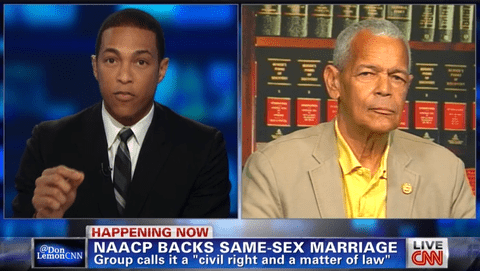 NAACP Chair Emeritus and long-time LGBT supporter Julian Bond appeared on CNN this weekend to discuss the organization's decision to back same-sex marriage. Calling it a "welcome surprise," Bond said President Obama deserves some credit in the decision.
"President Obama brought it to the fore when he spoke about it, in effect giving people permission to talk about it and to think about I think in ways they had not. And I think for our board, we were saying to each other, 'If the president can do this, then perhaps we can do it too," he told openly gay CNN anchor Don Lemon.
Asked about potential backlash, Bond replied, "I think thinking people will think about it and say, 'I may not agree with it but there it is, they've done it and I support the NAACP. I always have and I'm going to continue to do so. It's like President Obama… I don't think people are going to say, 'I'm not going to vote for him because he took this position on same-sex marriage." And the election is too far away to predict whether the president's position will impact November's election.
He also told Lemon that he and the NAACP have been "flooded" with congratulations for taking a strong stance on the issue.
You can watch the entire interview, including Bond's comments on the recently resurrected Jeremiah Wright controversy, AFTER THE JUMP…
Meanwhile, with regard to backlash, Rev. Anthony Evans from the National Black Church Initiative this weekend blasted Obama and the NAACP. "We love our gay brothers and sisters, but the black church will never support gay marriage," he said. "It is and always will be against the ethics and teaching of our Lord Jesus Christ."