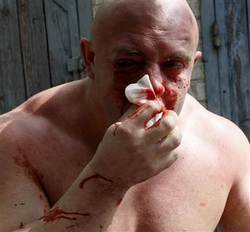 Earlier this morning I posted a picture of Ukrainian gay activist Svyatoslav Shereme being beaten after the cancellation of a pride event in Kiev. To the right, you see the damage done.
Gay Star News provides some more information on that would-be gay gathering:
Police advised pride organizers to abandon the march through the center of Kiev just 30 minutes before it was due to start, claiming 500 ultra-right football hooligans were en route to the rally point with the intention of preventing the event from going ahead.

Two activists were beaten up and tear gassed by a dozen youths in central Kiev after those already gathered for the march were evacuated with police escort.
…
Max Tucker, Ukraine campaigner at Amnesty International, said: "It has been clear from the start that the Kiev police department did not want this march to go ahead.

"Their reluctance to commit to the event and to put adequate security measures in place to protect demonstrators left organizers fearing for their safety."
Tucker also says that police told organizers they would not put their officers in danger to protect LGBT activists.
He also lamented potential bills that would essentially ban homosexuality, including the broadcasting or publication of anything even remotely gay-related.
"Passing this bill would fly in the face of Ukraine's international obligations to protect the right to freedom of expression and prohibit discrimination," he said, perhaps too hopeful that Ukrainian authorities feels any obligation of the sort.