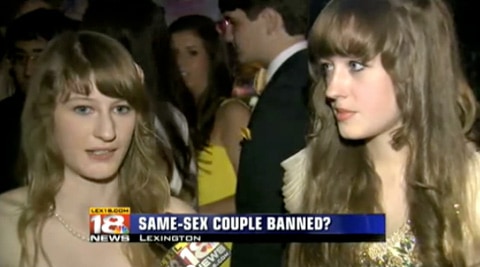 A lesbian couple was turned away from Lexington Catholic High School's prom in Kentucky, LEX18 reports:
"What I experienced in the Dean's Office was blatant homophobia," said Hope Decker, a senior at the school. "We were told that this school has catholic principles and so they couldn't let it happen."
"At first I was really upset," said Tiffany Wright, Decker's date for the dance. "I mean, we both cried and then I was like, this is ridiculous. There's gotta be something we could do about this."
Decker, Wright, and dozens of their friends still dressed up for the occasion and even attempted to get into the school for prom. When turned away, they decided to have their own outdoor version outside of the school.
"I just think it's ridiculous that a school that claims to foster love and equality is doing something like this to its own students," said Wright.
Watch an interview with Decker and Wright, AFTER THE JUMP…