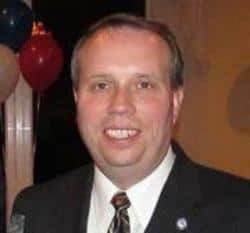 Kathy Marchione, a Republican primary challenger to New York State Sen. Roy McDonald, may want to distance herself from Brian Telesh, chairman of the Clifton Park Republican Committee.
The Times Union reports today that several sources, including one from a McDonald ally, delivered to them screen shots and transcripts suggesting Telesh has a history of posting anti-gay screeds online.
In one post from 2003, found at a site called The Leviticus Files, Telesh writes, "[Gays] are no different than drug addicts, wife beaters, alcoholics or any other deviant behavior group."
Then, in 2009, Telesh reportedly got into a Facebook fight with a user he described as sounding "a little gay."
In December 2009, someone identifying himself as Brian J. Telesh engaged in what started as a tongue-in-cheek exchange in a Facebook group about New Jersey, in which interstate bashing devolved after another poster mocked Telesh's employment as a corporate-level employee of a fast-food chain and his support for the GOP, and repeatedly called him a "clown."

"Yes I am proud to be Republican, just like your new Governor. The corrupt guy is gone and I'm sure you go to services in Hackensack to see your ex Gay Gov on Sundays 'cause you sound a little gay there," said the person identified as Telesh.

Another poster named Eric Stein branded the posting as "homophobia" and called Telesh a "bad Christian."

"Stein? Does that make you a Christ Killing Homo?" reads a reply from the Telesh account.
Telesh claims that the 2003 remark was from a private email and taken out of context, and says the Facebook postings, since removed, were made by someone who had appropriated his account. He also tries to pass blame for the story onto Sen. McDonald of Saratoga.
"It might be some folks from Roy McDonald's office just trying to slime and attack and go after me personally regarding this. It has nothing to do with any of the issues that are out there," Telesh said.
McDonald, one of the four GOP state senators to support marriage equality, replied to the controversy by saying "America is about inclusion."