Last week, Dan Savage invited NOM's Brian Brown for dinner and a taped debate on marriage and the Bible at his home. Savage laid out some possible conditions, all of which Brown has accepted.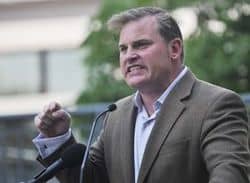 Writes Brown in a blog post:
Dan — I accept and will look forward to debating you at your dining room table. As I said in my challenge to you, anytime, any place.
While I appreciate the invitation that you have extended to my wife, she will not be able to attend. She is a full-time mom with seven beautiful children and an eighth on the way.
I have no objection to Mark Oppenheimer from the New York Times covering the discussion, nor to you hiring your own video crew to film the event, provided that I am able to hire my own video crew to be sure there is no creative editing of the discussion.
Not that a New York Times reporter would slant the news, mind you!
This will be fun!
Start popping the popcorn.
UPDATE: Savage responds.
So…
It looks like I'm gonna have to clear all the Catholic kitch out of our living room and dining room—my 5' plaster Jesus, our 3' plaster Mary, all my other plaster saints, the dozens of rosaries hanging around their plaster necks, the stack of disintegrating hymnals on the mantle, etc. Wouldn't want Brian to think there's something disrespectful about our collection. Our Catholic kitch is all family heirlooms. My late grandfather's rosaries, most of them prayed to pieces, were headed to the dump when I picked them out them out of the trash. But will knowing that my 5' plaster Jesus has been evacuated to our bedroom be more of a torment for Brian?
Details about the exact date and time of the Savage/Brown debate to come. The debate will be videotaped and released on YouTube. Stay tuned for more info…