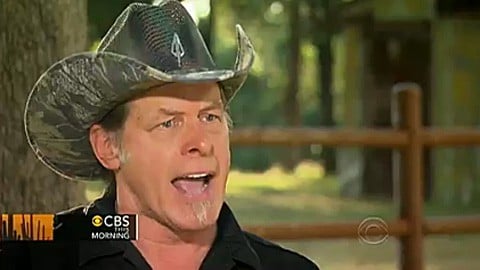 Ted Nugent has really odd ways of showing he's an even-keeled guy in a follow-up interview to his recent NRA Obama threats.
Says Nugent to CBS reporter Jeff Glor:
"Call me when you sit across from someone who has more families with dying little boys and girls who get a call to take them on their last fishing trip in life. Call me when you meet someone who does that more than I do. Because that's really moderate. That's extreme. I'm an extremely loving and passionate man. And people who investigate me honestly, without the baggage of political correctness, ascertain the conclusion that I'm a damn nice guy. If you can find a screening process more powerful than that I'll suck your d**k.
Nugent then turned to Glor's female producer (according to TMZ) and said, "Or I'll f**k you, how's that sound?"
Watch the video, AFTER THE JUMP…