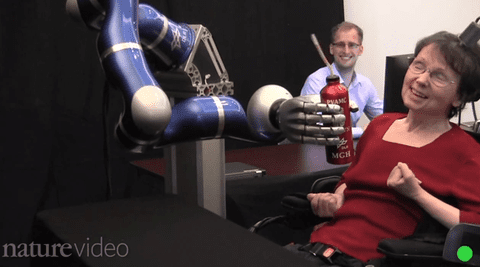 Scientists for years have been researching methods to help paralyzed people use their brains to make up for physical loss. Now it seems they have made quite the breakthrough by developing technology that helps disabled people control computers and robotics with their minds.
Via the Washington Post:
Using only her thoughts, a Massachusetts woman [Cathy Hutchinson] paralyzed for 15 years directed a robotic arm to pick up a bottle of coffee and bring it to her lips, researchers report in the latest advance in harnessing brain waves to help disabled people.
…
The latest report, which was published online Wednesday in the journal Nature, comes from scientists at Brown University, the Providence VA Medical Center in Rhode Island, Harvard Medical School and elsewhere.

It describes how two people who lost use of their arms and legs because of strokes years before were able to control free-standing robotic arms with the help of a tiny sensor implanted in their brains.

The sensor, about the size of a baby aspirin, eavesdropped on the electrical activity of a few dozen brain cells as the study participants imagined moving their arms. The chip then sent signals to a computer, which translated them into commands to the robotic arms.
The chip, implanted in the motor cortex, could make life far easier for countless people around the world. It will still take about another 5-6 years to perfect and simplify the technology, say researchers.
In the meantime, we can all enjoy watching Ms. Hutchinson do something on her own for the first time in over a decade.
"You could see an enormous grin when she managed it," researcher John Donoghue from Brown said.
Watch Hutchison work her magic, AFTER THE JUMP.