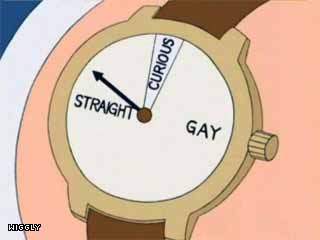 Psychologists fascinated by gaydar recently offered over 120 college students pictures of gay men and women to determine whether the gaydar instinct differs between gender. Turns out it does.
In the study, 129 college students viewed 96 photos each of young adult men and women who identified themselves as gay or straight.

Concerned that facial hair, glasses, makeup and piercings might provide easy clues, the researchers only used photos of people who did not have such embellishments. They cropped the grayscale photos so that only faces, not hairstyles, were visible.

For women's faces, participants were 65 percent accurate in telling the difference between gay and straight faces when the photos flashed on a computer screen. Even when the faces were flipped upside down, participants were 61 percent accurate in telling the two apart.

At 57 percent accuracy, they had a harder time differentiating gay men from straight men. The participants' accuracy slipped to 53 percent – still statistically above chance – when the men's faces appeared upside down.
According to the study's lead author, University of Washington psychology graduate student Joshua Tabak, the reality of gaydar undercuts conservative arguments that keeping sexuality secret will eliminate homophobia.
"Gaydar may be similar to how we don't have to think about whether someone is a man or a woman or black or white," he said. "This information confronts us in everyday life."