Obama's endorsement may have shifted some opinions.
A new ABC News/Washington Post poll: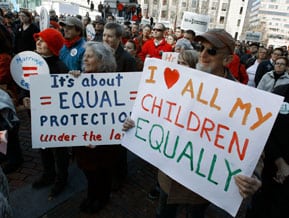 Overall, 53 percent of Americans say gay marriage should be legal, steady the past year but up from 36 percent in just 2006. Thirty-nine percent "strongly" support it, while 32 percent are strongly opposed – the first time strong sentiment has tilted positive. Six years ago, by contrast, strong views on the issue were negative by a broad 27-point margin.
Further, this poll, produced for ABC by Langer Research Associates, finds that support for gay marriage has reached a new high among African-Americans in ABC/Post polls, up from four in 10 in recent surveys to 59 percent now.
Another result shows increasing exposure: Seventy-one percent of Americans now say they have a friend, family member or acquaintance who's gay, up from 59 percent in 1998. People who know someone who's gay are 20 points more likely than others to support gay marriage.
Regardless of that shift, Obama's May 9 announcement of his support for gay marriage shows no measurable impact on political preferences.
Here's the poll (PDF).