Three separate bills dealing with same-sex marriage will be considered by the Rhode Island House Judiciary Committee today, WPRO reports: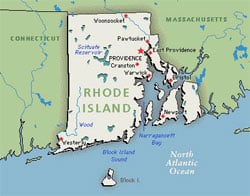 The first of the three sponsored by Rep. Larry Valencia (D, Richmond, Charlestown, Exeter) will allow couples legally married elsewhere to divorce in Rhode Island regardless of whether the marriage would have been legal in the state.
The second bill sponsored by Rep. Frank Ferri (D, Warwick) would remove an amendment added to the civil union bill last year allowing individuals and organizations to refuse to provide service to a civil union if they oppose on religious grounds.
The third bill sponsored by Rep. Arthur Andy (D, Cranston) provides for same-sex marriage in Rhode Island and recognizes previously performed civil unions as marriages.