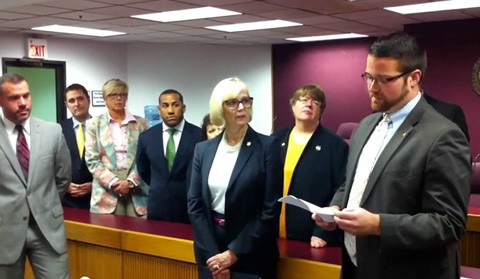 Republican Missouri State Rep. Zach Wyatt came out of the closet today in a speech to Republican colleagues, asking them to withdraw their support like anti-gay issues like the "Don't Say Gay" bill, which has been advancing through the legislature.
Said Wyatt:
"I will not lie to myself anymore about my own sexuality. It has probably been the hardest thing to come to terms with. I have always ignored it, didn't event think about it, or want to talk about it. I have not been immune to it. I hear the comments, usually snide ones, about me. I'm not the first or last Republican to come out. I've just gotten tired of the bigotry being shown from both sides of the aisle on gay issues."
Watch Wyatt's speech, AFTER THE JUMP…
The Kirksville Daily Express reports:
Speaking in Hearing Room 5 at the State Capitol, Wyatt condemned what he called a "horrible bill" that would make illegal nearly all discussions on homosexuality in public schools, including conversations between students and school staff about their own sexuality. Wyatt, who last week issued a statement addressing his concerns on the bill and related his experiences being bullied as a child, called on his fellow Republicans to join him in the fight against bullying and in removing HB2051 from consideration.
"Today I ask you to stand with me as a proud Republican, a proud veteran, and a proud gay man who wants to protect all kids, addressing bullying in our schools," Wyatt said.
Make sure not to miss a Towleroad headline by following @TLRD on Twitter.