Mitt Romney threatened the funding of a commission to fight LGBT bullying while he was governor of Massachusetts, TPM reports: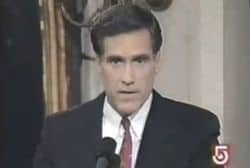 The Governor's Commission on Gay and Lesbian Youth, created by Republican Gov. William Weld in 1992 in response to newly released statistics showing alarmingly high suicide rates among gay and lesbian teens, was designed to combat harassment in schools. It served at the pleasure of the state's chief executive. The commission funded Gay Straight Alliances in high schools and provided training and information for teachers.
Romney continued its existence upon taking office, but a rift began in 2005, when he vetoed a $100,000 increase in its budget, prompting the state legislature to overturn his move and restore funding. Conservative anti-gay activists, who had mobilized in the wake of the state's gay marriage fight, publicly opposed the commission's budget request.
Romney's office reiterated at the time that the governor's initial objection was over funding levels, and not the group's goal of helping gay youth, which he supported.
Said Eliza Byard, executive director of GLSEN: "We remember well what Romney tried to do as governor of Massachusetts and we now we have more info on some of his own attitudes that may have led to his policy actions. If he's willing to dismiss [his own bullying] incident as 'hijinks,' I could understand that he wouldn't understand at all why this program was so critical."