Mentioning nothing about the scandal that he had threatened a former boyfriend with deportation if he revealed they had a romantic relationship, after which his fundraising plummeted, Pinal County, Arizona Sheriff Paul Babeu told supporters in an announcement today that he was ending his run for Congress and seeking reelection as Sheriff: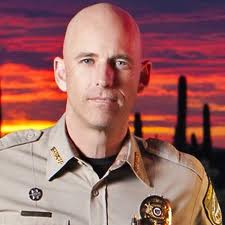 First, let me say how much your friendship and support means to me. When I announced my candidacy for Congress, I promised the citizens of Pinal County that I would ensure continuity of leadership in the Sheriff's Office. Chief Deputy Steve Henry's candidacy not only ensured continuity of leadership, it also safeguarded the improved service we've delivered to Pinal families with the same passion and commitment since taking office.
The federal Office of Special Counsel has advised Chief Henry that because our office receives federal funds and Steve supervises those who are in control of federal funds, he is not able to run for Sheriff while serving as our Chief Deputy.
Chief Henry was left three choices, resign his position as Chief Deputy and run for Sheriff, withdraw his candidacy for Sheriff or transfer to a non-leadership position within our office where he would not supervise anybody who handles any federal funding. Forget the politics, none of these options are good to maintain continued success of our Sheriff's Office. I have decided to end our congressional campaign and seek re-election as Pinal County Sheriff. Yesterday, I informed my campaign staff and our finance team of my decision to run for re-election.
There's more at his site.