A Gay Pride march set for May 27 has been banned for the seventh consecutive year, AFP reports: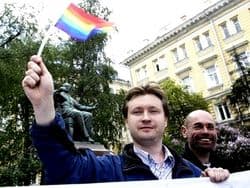 A city official in charge of security, Vasily Oleinik, told organisers the march would "provoke a negative reaction in society," according to a statement released by the GayRussia group.
The public would see the march as a "provocation, causing moral harm to children and teenagers," the official warned, according to the group.
Organisers of the gay pride, led by Nikolai Alexeyev, had applied for permission to hold a march down a central street with up to 1,000 participants and a rally on Revolution Square next to the Kremlin.
Alexeyev, an outspoken lawyer, wrote on Twitter that the authorities banned the event "even after we were ready to accept any location and guaranteed no obscenity and nudity."
He vowed to appeal the decision in a city court on Monday, but said the event would go ahead despite the risk of a crackdown by the authorities.
"Getting ready for clashes on 27 May," he wrote.
Alexeyev was the first conviction under St. Petersburg's ban on "gay propaganda", a law being considered both in Moscow, and federally.
In related news, almost half of Russians believe media and propaganda make people gay:
Almost half of Russians believe homosexuality is a human behavior acquired under the influence of the media, according to a poll taken by state-run pollster VTsIOM earlier this month.
"Forty-seven percent of the respondents said media and propaganda were the key factors contributing to development of a person's non-traditional sexual orientation," the pollster said in a press release issued Thursday. Among other vital factors that impact the development of homosexuality, respondents named the influence of friends and parents (35 and 33 percent, respectively). Only 16 percent said that negative experience of past relationships with people of the opposite sex brings about homosexuality.