The San Diego City Council has voted unanimously to name a street after Harvey Milk, the Union Tribune reports: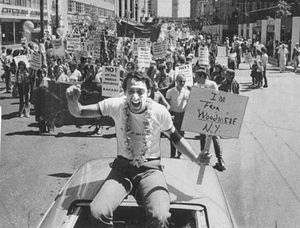 The two-block road leading up to the San Diego LGBT Community Center in Hillcrest will be changed from Blaine Avenue to Harvey Milk Street in honor of the late San Francisco supervisor, the first openly gay man to be elected to public office in California.
"This is a great day of pride for our community, our district and this city," said Councilman Todd Gloria, who represents the Hillcrest area and is openly gay.
Councilwoman Lorie Zapf joined the unanimous vote, despite past comments critical of homosexuality. She once called it a sin and that gays should not be allowed to hold public office. She has apologized for what she said during her 2010 campaign.
The street signs will be changed by May 22, what would have been Milk's 82nd birthday.