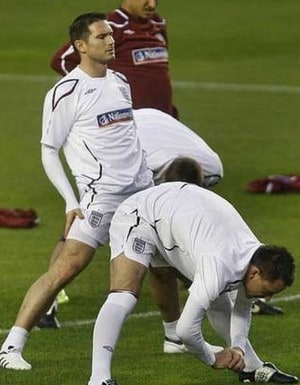 There will be lots of balls thrown and caught during a sports retreat being hosted by the Catholic "ex-gay" group Courage in Philadelphia this weekend.
Because, you know, you can overcome being gay by brushing up on tossing around the ol' pigskin. 
Courage, a Catholic group that encourages people with same-sex attraction to remain celibate, is holding its 13th annual sports camp in which "men physically compete on the field while enriching their souls through a daily regimen of prayer, confessions, mass, and the Liturgy of the Hours," according to the group's website.

"They think that in offering people with same sex attraction the chance to learn how to play sports they will learn to be manlier," said Ed Coffin, director of Peace Advocacy Network, a Philadelphia group which plans to protest outside the seminary…

"It's a ludicrous assertion. There are many, many out gay athletes and many gay men who play sports," he said.
One participant, who refused to be identified, insists the camp is not "brainwashing." Rather it's a "tutorial sports event" for men who face "social blockades" for their lack of athletic acumen.
Courage also claims that men are gay because they're estranged from their fathers. "I never met a man with same sex attraction that had a healthy relationship with his father," said one member, known only as Al.