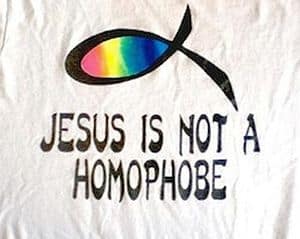 Lambda Legal scored a nice win in Waynesville, Ohio, where high school student Maverick Couch was threatened with suspension for wearing a "Jesus Is Not A Homophobe" shirt.
Couch first wore the shirt last year and was asked by his principal, Randy Gebhardt, to remove it, which he did. Then, as the latest school year began, the student asked if he could wear it again. He was denied and threatened with detention. That's when Lambda Legal got involved.
The legal group has more information on the case:
Lambda Legal sent Gebhardt a letter in January outlining the legal precedent supporting Maverick's right to wear the shirt. The school district responded that "the message communicated by the student's T-shirt is sexual in nature and therefore indecent and inappropriate in a school setting." Lambda Legal sued the school district on Maverick's behalf on April 3. The next day, the school conceded that Couch could wear the shirt—but only on one day: the Day of Silence.
Today's ruling says that Couch can wear the shirt any day he chooses. "Plaintiff is expressly permitted to wear the "Jesus Is Not A Homophobe" T-shirt to school when he chooses," the ruling reads.
Said Lambda Legal senior staff attorney Christopher Clark: "If school officials had any doubt before, it's clear now: First Amendment rights apply to all students on every day of the year, and efforts to silence LGBT youth will not go unchallenged."
And Couch of course is thrilled, as well, "The shirt is a statement of pride, and I hope other students like me know that they can be proud, too."
In addition to being ordered to let Couch wear his shirt, the school must also pay him $20,000 for legal fees.
Here's a PDF of the ruling.