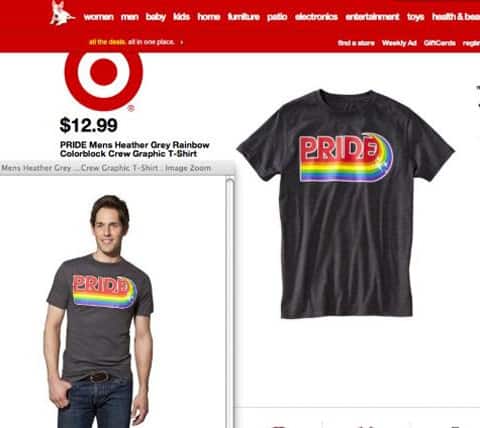 In a partnership with the Family Equality Council, Minneapolis=based retailer Target is selling a line of Gay Pride-themed T-shirts online this year, which grew out of "a grass-roots effort among employees and the company's LGBTA (lesbian, gay, bisexual, transgender and allies) Business Council", according to a Target spokeswoman.
Just two years ago, Target was under fire for its donations to MN Forward, a Republican PAC supporting anti-gay candidate Tom Emmer.
Family Equality Council's Jennifer Christler tells The Star-Tribune, the Emmer contribution had nothing to do with this:
"I certainly recognize what an incredible reaction [the Emmer-related donation] generated," said Jennifer Chrisler, the council's executive director. "But here's what I know about Target and their work with us: They're 100 percent committed to the goal of families being respected in all communities including parents who happen to be LGBT. This is just a continuation of that support."
Ten T-shirts are now featured on Target's website with gay-friendly themes. Two feature a design by rocker Gwen Stefani, who has her own line of kids' hipster clothing called Harajuku Mini at Target. The Stefani design reads, "Love is love." Each Pride T-shirt sells for $12.99, all of which will be donated to the Family Equality Council. Donations are capped at $120,000.
What's Target's stand on the impending ballot measure that would constitutionally ban same-sex marriage in the state?
Target, the $70 billion cheap chic retailer, hasn't taken a public stand on the amendment. In a statement, the company notes its "long history" of supporting the LGBT community but acknowledges "there is a broad range of strongly held views on the [Minnesota] Marriage Amendment." The company goes on to encourage employees to exercise their right to vote.