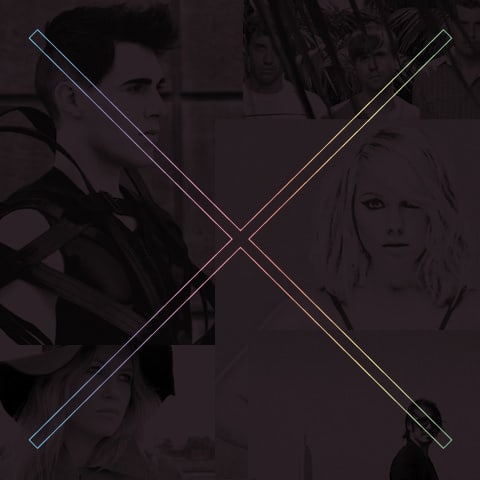 BY OCCUPY THE DISCO / RU BHATT
Welcome to The OXD Mirror, a new weekly music column brought to you by the boys of OCCUPY THE DISCO (OXD), a New York City based movement created by three music lovers, Ru Bhatt, Josh Appelbaum, and Tadeu Magalhães who want to share their love for disco and house music with the world.  
OXD curates and recommends music events to the gay community—in an effort to move the focus of the nightlife scene beyond the promoter and venue and to the music itself. We aim to educate, entertain, engage and empower the gay audience to reclaim their ability to question and experience the unknown. Our Towleroad column will serve to showcase tunes that are definitely off-the-beaten-path but rightfully deserve the attention of the gay ear. It's music that will make you dance, dream, and most importantly, love.
Lemonade – 'Ice Water' 
The Brooklyn-based/San Francisco-formed synth pop group known as Lemonade, first caught our ears in 2010 with their catchy summer anthem, 'Lifted,' but have left us parched for more until now. With their appropriately titled album track, 'Ice Water,' the band quenches our thirst for a poolside sunshine-filled pop tune with a song that is practically drenched in summer. The lead singer, Callan Clendenin, yearns for his lover's cool hands to calm him as they glide along airy synths and punctuated rhythms. Upon listening we're immediately assaulted with images of speedo-clad tomfoolery with our friends among the beaches and dunes of Fire Island. Stream the whole album, Diver, above.
Ladyhawke – 'Sunday Drive (Scissor Sisters Remix)'
'Sunday Drive' is the second single off of Ladyhawke's new album, Anxiety, and has been given a trippy rework by the beloved Babydaddy of the Scissor Sisters. The remix echoes synths and piano arrangements from 'Invisible Light,' a combination that will surely get you in the mood to dance.
MORE TUNES, AFTER THE JUMP…
Sam Sparro – 'Happiness (The Magician Remix)'After a four year wait since his self-titled debut, Sam Sparro is back and releasing his latest effort to legions of eager fans. The 'Black and Gold' singer's lead track, 'Happiness' is an anthem in its own right, with lyrics that are expectedly optimistic and utterly empowering. The chorus achieves epic proportions when the remix production is handed over to the ever popular master producer Magician, thereby bringing the track to a whole new, feel-good, level. Perseus – 'Love in Zanzibar'Perseus manages to adhere to his very particular tropical-flavored house music style that blends steel drums melodies, and lazy beats with sample vocals by well known R&B artists like Mary J. Blige who is featured on 'Love in Zanzibar.' Perseus perfectly blends all these elements to create a languid, lounge-like, tropical disco vibe as Blige's soulful vocals beg: "who can love you better?" Niki & The Dove – 'Mother Protect (Goldroom Remix)'The Swedish electropop duo known as Niki & The Dove are ready to make a big impact this year with their debut album, Instinct. The lead single, 'Mother Protect,' has been given the Goldroom treatment which results in turning the originally dark song into a veritable disco house anthem which appropiately complements the already haunting chorus. Little Boots – 'Every Night I Say A Prayer (Tensnake Remix)'When Little Boots announced she was going team up with producer Andy Butler (from NY nu-house act Hercules And Love Affair) on her latest track, 'Every Night I Say a Prayer,' we knew it was a collaboration that should not be missed. As if that wasn't enough,  Tensnake added another layer with his remix which brings the house entrenched original track to more of a dance oriented vibe reminiscent of the 80s.This week's post was written and curated by Ru Bhatt. For more information on OXD, check out our website and accompanying blog at www.occupythedisco.com, like us on Facebook, or follow us on Twitter: @OccupyTheDisco.