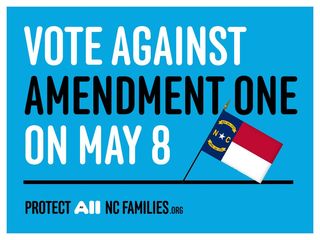 Yesterday was a day of great loss. The odious Amendment One in North Carolina passed for a variety of reasons, including the un-Christian messages spewed forth by Christian messengers, a Republican base galvanized by social conservatives leaders who have hijacked the Republican party, confusing wording, ignorance, and just plain hatred.
Supporters admitted that racial supremacy was behind the need for Amendment One. The leading Republican in the State legislature said the anti-gay Alliance Defense Fund drafted the language. And, then, of course, there were shrill screams that gay predators are hurting children.
Amendment One's language states: "A Constitutional amendment to provide that marriage between one man and one woman is the only domestic legal union that shall be valid or recognized in this State."
It is striking for its breadth, encompassing not only gay marriages, but civil unions and other forms of domestic partnerships, and even undermining the validity of domestic violence protection laws. The new provision in the North Carolina State Constitution is also villainous, for its purposefully confusing syntax and for the clarity of its hateful message: No gays need apply!
This doubling down on discrimination offers us a teachable moment about the question for equality and honor for gay persons. It proves the importance of impact litigation, highlights the danger of allowing our rights to be subject to popular vote, and shows us why we should vote for President Obama and his progressive allies in Congress.
CONTINUED, AFTER THE JUMP…
Yesterday's vote in North Carolina was another trip to the ballot box that ended badly. Despite the best efforts of groups like Protect All NC Families, no sum of money, no legion of foot soldiers, and no well spring of truth could fight popular fear and antigay animus so ingrained that logical, intellectual, and factual appeals meant nothing. It proves that, as yet, the only way forward for recognizing the true equality of gay persons is through litigation, where pure hate cannot masquerade as truth. 
The American Foundation for Equal Rights (AFER), the sole sponsor of the federal challenge to California's ban on marriage recognition, and Lambda Legal, the powerhouse of the gay rights movement that is fighting for gay equality in all fifty states, have known this for some time. As Ted Olson has said numerous times, Perry v. Brown "put fear and prejudice on trial" and exposed the arguments for denying gays access to the institution of marriage as flimsy, at best, disgusting, at worst. Lambda attorneys are fighting for marriage rights across the country, from New Jersey to Nevada and with each victory comes more than just an end to discrimination, but also notches up on the pro-gay marriage polling numbers. The loss in North Carolina provided neither.
It also should make us pause when some of our allies clamor for returns to the ballot box in California or Maine or New Jersey, even when the polls seem to be moving in our favor. The notion that North Carolina was somehow so threatened by gay people so in love that they want to marry is only slightly more offensive than the idea that the legitimacy of that love requires a popular vote. Consider the case of New Jersey Governor Chris Christie, who infamously seemed flummoxed by progressive opposition to a popular vote on gay marriage because, as he stated, if it goes to the ballot, he loses. That position is morally bankrupt as it assumes that only the result matters regardless of the offensive idea that he and his ilk have the power to grant us the honor of recognizing our marriages. Mr. Christie's immorality is no different than the basic immorality of anyone who would permit a popular vote on any human right as basic and fundamental as love.
Perhaps the most immediate lesson of Amendment One is much-needed political science reminder. Slim majorities of voters who support same-sex marriage rights for the first time are great for talking points, but the Amendment One fiasco shows us that national opinions, which can be skewed when aggregated, do little to protect us from a state political campaign waged with lies, vitriol, and hyperbole. Even if we had won and a majority of voters had rejected Amendment One, we would still be left with a state that bans bans gay marriage by statute and a Republican-dominated legislature with Tea Party and social conservative leanings. This was a quintessential defensive, rearguard action, one that we were forced to fight because North Carolinians elected anti-gay legislators.
That means that the absolute best we could have hoped for was that nothing awful would happen. But, something awful did happen. The Amendment was placed on the ballot after Republicans took over control of the state legislature after the 2010 elections, a position that party had not been in for 140 years! 
When we elect progressive politicians, like we did in 2006 and 2008, we can hope for and we can achieve a lot more. We can win passage of hate crime legislation. We can have a President who protects the rights of same-sex partners in hospitals, who refuses to defend discriminatory laws, who ends anti-gay discrimination in the military, and who argues for heightened scrutiny of anti-gay discrimination, to name just a few of President Obama's pro-gay accomplishments.
Had we elected Senator John McCain in 2008, or if we elect Mitt Romney this year, economic conservatives in the gay community may be happy, but from a civil rights perspective, the best we could hope for is that things don't get any worse. This is the opposite of an Obama-is-the-lesser-of-two-evils argument; in fact, the difference between playing offense and playing defense is like night and day, black and white, up and down. They are opposites, and when it comes to a choice between conservative politicians who may not want to talk about social issues for fear they might scare away independents and progressives who could be our civil rights allies, the latter is the only reasonable choice. So, the choice is clear: To keep fighting battles like the one over Amendment One in North Carolina, to keep playing a rearguard defense against our enemies, then vote for Mr. Romney. To keep fighting battles like the one over workplace protections for gays, to keep playing an vanguard offense in friendly territory, then vote for President Obama.
It is ironic that North Carolina's official motto — esse quam videri (Latin for "to be, rather than to seem") — comes from Cicero's essay, "On Friendship." Virtute enim ipsa non tam multi praediti esse quam videri volunt, he wrote. Or, "few are those who wish to be endowed with virtue rather than to seem so." The holier-than-thou attitudes of the majority of North Carolinians who voted for Amendment One, the State Republican legislative majority who sponsored it, and the misguided pastors who foamed at the mouth in support of it have led them astray from virtue. Yet we are the ones who are punished for it.
***
Ari Ezra Waldman is a 2002 graduate of Harvard College and a 2005 graduate of Harvard Law School. After practicing in New York for five years and clerking at a federal appellate court in Washington, D.C., Ari is now on the faculty at California Western School of Law in San Diego, California. His research focuses on gay rights and the First Amendment. Ari will be writing weekly posts on law and various LGBT issues. 
Follow Ari on Twitter at @ariezrawaldman.