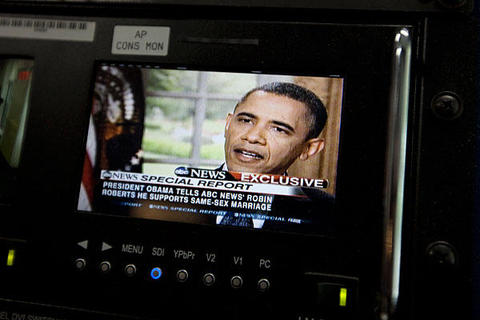 Now that President Obama has come out in support of same-sex marriage, many people and pundits, including the New York Times, are wondering whether the decision was "inevitable." Did he have a choice, or was he pushed by a changing culture and more forceful advocates, including his own vice president? And, more importantly, what impact will this news will have on the forthcoming November election?
In some ways, Mr. Obama is late to the party. Mr. Biden was just the latest prominent Democrat to announce his support, and many now say that it seems unthinkable that by 2016 any serious Democratic presidential candidate would oppose gay marriage.
…
In addition to the risks, [there are] clear potential upsides for Mr. Obama. His announcement, while symbolic rather than carrying the force of law, could energize big parts of his base, particularly younger voters, and reassure liberal Democrats who had been disappointed with Mr. Obama on this issue. It will no doubt help with gay people, already among his biggest donors.
Tell me, reader, does Obama's marriage support make you more enthusiastic about the election, or is this symbolic announcement simply a bit of good news that will be swallowed by a sea of economic and social woes?