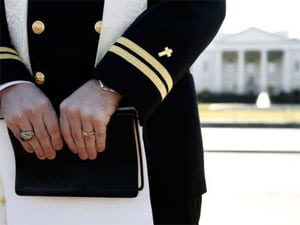 While President Obama and other lawmakers may support gay marriage and civil rights, let us not forget that there are still forces in the government eager to limit rights for same-sex couples.
Take, for example, a House committee's decision to back a defense budget amendment banning gay marriage ceremonies from military land.
Conservative Republicans still angry with the end to the "don't ask, don't tell" policy on gays in the military pressed two measures.

"The president has repealed 'don't ask, don't tell' and is using the military as props to promote his gay agenda," said Rep. Todd Akin, R-Mo., who is running for Senate.

The committee, on a vote of 37-24, backed an amendment that barred same-sex marriages or "marriage-like" ceremonies on military installations. The panel also endorsed an Akin amendment that said the services should accommodate the rights of conscience of members of the services and chaplains who are morally or religiously opposed to expressions of human sexuality.
That's strange: "opposed to expressions of human sexuality." Are heterosexual couples asexual? I thought sexuality, and the babies it can produce, was a key component of conservative arguments against gay marriage. I guess I was confused.