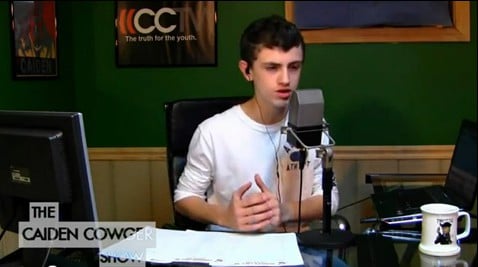 Last week Andy wrote about Caiden Cowger, a deeply religious 14-year-old author internet talk-radio host, whose on-air anti-gay rant went suddenly viral. In the rant, Cowger said:
I see younger people that is turning out to be homosexuals…we've got about 30 teenagers in this county that I'm at that are homosexuals and it is sickening…I knew these teenagers when they were in elementary school…they were not homosexuals. They just decided all of a sudden – I think I'm going to be gay. Why they are becoming homosexuals is because they are being encouraged … [by] President Obama. It's all right, it's okay you were born that way.
There was a lot more, and it was all tragic for a lot of reasons. Because of the grammar; because of the absence of critical thought; because this plainly immature and unformed 14-year-old's youthful idiocies had, by the gross democracy of the internet, been placed permanently in public view, doomed to follow him through life no matter how much he evolved or came to regret his adolescent wrong-headedness.
Well — the service hosting Caiden Cowger's program, Speaker, has belatedly tried to rectify the latter problem. The Advocate reports they've taken away Cowger's show:
This follows after YouTube also appeared to remove the show from its site, although its resurfaced elsewhere on the site and opponents have started a red-flagging campaign.

"While we not only support free speech, we help it find its way to more people faster and easier with our service that is the audio equivalent of YouTube, but like them, we cannot and will not condone hate speech," said Spreaker CEO Francesco Baschieri in a statement. "Consequently, we have pulled down audio content from Caiden Cowgar, whose recent gay-bashing clearly crosses the line from free — to hate — speech."
While Cowger's shows have been removed from Speaker, his account with the service remains active. On Friday, he posted a brief statement asserting that he doesn't hate gay people. Speaker reports it may restore some of Cowger's past episodes to the internet once their content has been vetted.