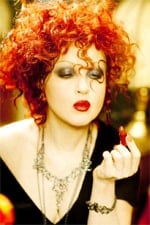 Cyndi Lauper will perform her new single "Sex is in the Heel" (along with hopefully, a few more favorites) at NYC's Dance on the Pier on LGBT Pride day, June 24.
"NYC Pride also announced a new extended run time for the Dance on the Pier. The event will begin at 5 p.m.,following the conclusion of the LGBT Pride March, and run until 2 a.m."
Said Chris Frederick, Managing Director: "We responded to a certain level of discontent with the later start time. We think these new hours will fit everyone's schedule and allow for an extended Pier Dance that has never been experienced in the history of New York City Pride Week."
Additionally, NYC Pride will be adding an additional DJ to its Dance on the Pier line-up. DJ Eddie Baez will now be spinning the opening spot from 5 p.m. to 8 p.m.