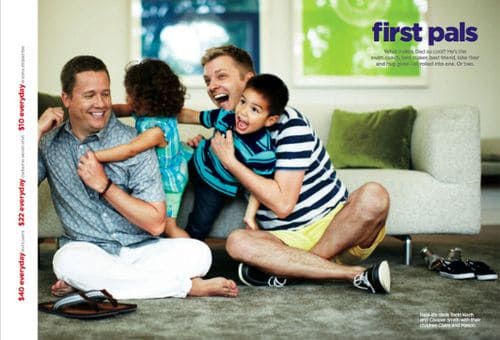 Like other right wing groups, the American Family Association has been hounding JC Penney over the retailer's support of same-sex parents and LGBT rights. And if a recent email to AFA supporters is any indication, JC Penney is intent on ignoring the anti-gay organization.
From that email:
It is obvious that JCP is promoting the normalization of homosexual marriage.

AFA encourages your family to avoid shopping at JCP at least through Father's Day.

TAKE ACTION
1. Call Penney's corporate office at 972-431-1000 and let them know you family will not be shopping their stores this Father's Day (or beyond).

2. Call, or visit your local store manager. Local managers are more likely to listen to your concerns and pass them along to the corporate office. You can find the phone number of your local store here, or in your local phone directory.

3. Because JCP blocks emails from our server, you can send your own personal email to Penney's at jcpcorpcomm@jcpenney.com.
Clearly AFA isn't as committed to a JC Penney as another outraged group, One Million Moms. Notice that the AFA email reads, "avoid shopping at JCP at least through Father's Day."
JC Penney has repeatedly insisted they won't be kowtowing to conservative wingnuts.