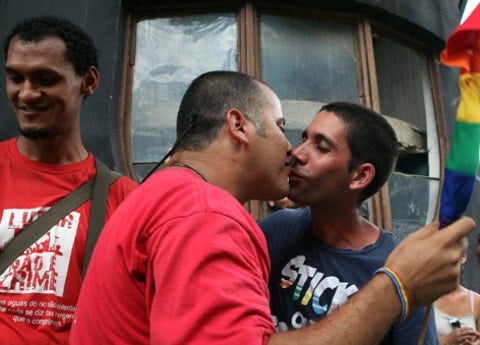 LGBT activists in Cuba held a kiss-in yesterday to raise awareness of their continued oppression in the communist nation. They also presented Parliament with a list of demands, including investigations into 60s-era roundups of gay Cubans, laws that respect equality and more police protections against hate crimes.
The action comes just days before Cuba holds its second gay pride and was organized by a group called Project Rainbow, which calls itself an "independent and anti-capitalist LGBT group."
The Miami Herald offers some more details:
"Our document calls on the Cuban government to fully comply with international agreements it has signed on human rights, especially those that apply to LGBT rights," [activist Ignacio] Estrada said after delivering the petition [to Parliament].

The petition also calls on lawmakers to launch an investigation of the Military Units to Aid Production, or UMAPs — hard-labor camps created by Fidel Castro during the 1960s to detain homosexuals and government critics — and requests trials for government officials responsible for the camps.

Activists are also demanding that authorities stop applying the vaguely worded crime of "pre-criminal dangerousness" to gays and instead investigate complaints of those who are beaten or fired from their jobs because of their sexual orientation, Estrada said.
Cuban society has made small steps toward accepting their LGBT comrades — thanks in large part to Mariela Castro, daughter of current president Raul and Fidel's niece — but is still ruled by a macho culture that denigrates and dismisses homosexuality.