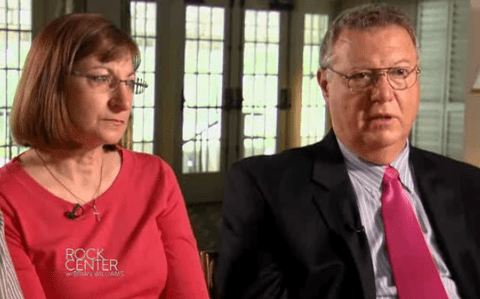 In their first formal interview since their son's 2010 suicide, Joe and Jane Clementi, Tyler Clementi's parents, sat down with NBC's Hester Holt to discuss how Dharun Ravi's actions led to Clementi's death ("This was an executed plan," says Joe), how they're coping since the trial and the way their their evangelical Christianity influenced their reaction to Tyler's coming out.
"Sin needs to be taken out of homosexuality," they learned.
The duo also express their surprise and appreciation at all the national attention around Clementi's death and the hate crime trial against Ravi, and Tyler's brother James, also gay, speaks out about the contentious ruling against Ravi, who was sentenced to 30 days in jail for his role in the 18-year old's death. He only spent 20 days behind bars.
While they're still upset over the trial, the Clementi family is now focusing on their new foundation, the Tyler Clementi Foundation, through which they're trying to erode social discrimination and save other young men and women from the fate that befell Tyler.
Watch the interview AFTER THE JUMP.