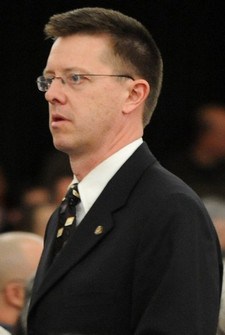 With the pro-equality groups fundraising like gangbusters to pass a November vote on same-sex nuptials, homophobic activist Mike Heath (pictured) is trying to convince other right-wingers to join his hateful cause.
In a post over at the group Americans For "Truth" About Homosexuality, Heath, who heads up two PACs fighting a ballot measure that would give same-sex couples the same rights as straights, decries Facebook founder Chris Hughes' $100,000 donation to the pro-LGBT cause and then proceeds to suggest fellow activists start describing "this whole issue" — he calls it "sodomy-based marriage" — as "monstrous insaneness."
From Heaths' post, via Good As You:
[Hughes made] a huge $100,000 donation to assure Maine enacts sodomy-based "marriage" in November of this year.
…
The Christian supporters of common sense in Maine struggle to stay faithful in the fight. Even though Maine is the only political jurisdiction to have twice overturned "gay" rights in statewide voting, the momentum has shifted to the homosexual activist lobby. Polling shows them winning the vote in November. That would make Maine the first state to approve of so-called same sex marriage in a popular vote.

Now is, of course, not the time to soften our message. It is, in fact, the time to abandon the pro-family politicking of the past four or five decades and simply tell the truth. A good place to start is this sermon by Saint John Chrysostom. He calls this whole issue "monstrous insaneness."
Heath is most likely fighting an uphill — not to mention archaic — battle: the latest polling gives equality a 20-point lead over tired, old discrimination.