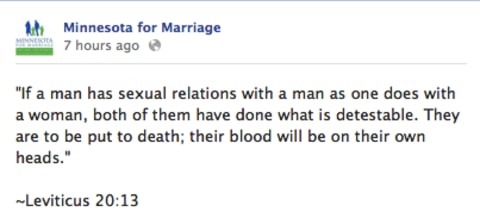 Minnesota For Marriage is now claiming that someone hacked their Facebook and posted that Leviticus quote calling for gay men to be put to death. The anti-gay group today posted the following message:
Good Morning – Last night our Deputy Campaign Manager, Andy Parrish's personal email, Facebook, and Twitter accounts were hacked by an individual who posted the Leviticus verse below. We are currently working with Facebook, Twitter, Gmail, and Apple to see who hacked Andy's account and who posted this message.

Clearly we would never advocate for anyone to be put to death – We strongly believe that people are entitled to love whomever they choose, but they are not entitled to redefine marriage for all of society.
Are you buying what they're selling?
(h/t JMG)