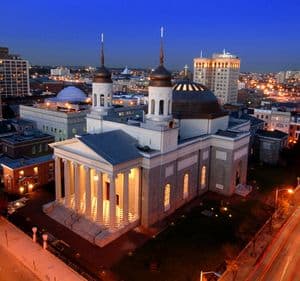 We are now two days deep in the "Fortnight for Freedom" — a two week exercise in "prayer, study, catechis, and public action" ordained by the United States Conference of Catholic Bishops, devoted to ceasing the alleged erosion of religious freedom in the USA.
Already, the Archbishop of Baltimore, William E. Lori, has delivered a special "Fortnight for Freedom" homily, a tearful lament of the terrible indignities suffered by the Church, which somehow never quite gets around to explaining what Catholic freedoms are most under threat. Joseph Amodeo, the gay Catholic researcher who resigned in protest from Executive Committee of the Junior Board of Catholic Charities in April, does a much better job at HuffPo:
… In an April 2012 statement the bishops outlined what they viewed as "concrete examples" of religious liberty being "placed in jeopardy," including the federal government's mandate regarding the coverage of contraception, and state-level adoption laws permitting same-sex couples to adopt children. In addition, Church leaders, including Cardinal Timothy Dolan of New York, have cited civil marriage equality for loving and committed gay and lesbian couples as being among these "infringements" on religious freedom. As a response to these issues, the bishops have asked parishes and dioceses throughout the country to use Fortnight for Freedom as a means for mobilizing Catholics to defend religious freedom. In light of this, some parishes and dioceses have launched a series of events associated with the effort, while others have quietly refused to participate.

Amid this call to action, sitting in the pew of my parish a few weeks ago, I listened to my pastor proclaim during a homily, "Uniformity is not unity, and conformity is not community." Sadly, with the Fortnight for Freedom and other recent actions, the bishops appear to be working toward a Church that is defined by unquestionable adherence to proclamations from Church leaders that lack moral and ethical clarity. In Dogma and Preaching, Pope Benedict XVI writes that the Church is called "to be in reality the milieu or 'living space' and not the 'dying space' of the Word." In order to truly be the living Church and honestly embrace the living God, the Church must witness the presence of the Spirit that is evident in our world today.

As bishops argue that their religious freedom is "at risk" because of a federal government working to be just, I'm left wondering why the religious principles of a single faith tradition's leaders should define public policy for an entire nation. If the Church argues that the word lives today through the inspiration of the Holy Spirit, and that such inspiration is manifested through the spoken and written word of men and women, then why would such a Spirit stop at the doors of Congress and countless legislative halls throughout the country? In short, I don't think the Spirit has stopped; instead it seems rather evident that men and women who have been chosen to lead and govern America are discerning great questions of our time and are deliberating in a way that calls to mind the great debates of the Second Vatican Council.