One week ago Friday, at the White House's LGBT Pride Month reception, President Obama delivered a stirring speech, a trans man proposed to his girlfriend, and many pictures were snapped. Two of them have now made news.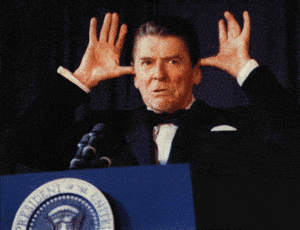 Both pics were taken in front of the Ronald Reagan presidential portrait. In one, photographer Zoe Strauss mugs furiously; in the other, Matty Hart, of Solutions for Progress, Inc. (which helps eligible families obtain public assistance), smiles mischievously. In both, the pictures' subjects flip off their dead president.
From The Philly Post:
Hart posted his photo on Facebook with the caption, "F*** Reagan." Strauss simply posted hers without commentary. After all, the murderous facial expression and double-barreled bird-flipping seem to speak for themselves. Comments ranged from "you forgot to add with a chainsaw" on Hart's "F*** Reagan" note, to my personal favorite, "star wars … up yours," on Strauss's.

Strauss … declined to comment for this story ("I'm keeping out of the press!" she texted me), but made crystal clear her position on Reagan by posting on Facebook a long list of things that happened under his watch, including the Supreme Court'sBowers v. Hardwick decision, upholding the constitutionality of Georgia's anti-sodomy law, the Iran-Contra affair and the invasion of Grenada.

Additionally, Strauss posted Reagan's memorable statement on LGBT rights from the 1980 campaign trail: "My criticism is that [the gay movement] isn't just asking for civil rights; it's asking for recognition and acceptance of an alternative lifestyle which I do not believe society can condone, nor can I."
The Log Cabin Republicans have since responded:
In a statement Friday, Christian Berle, deputy executive director of the Log Cabin Republicans, criticized Hart and Strauss for insulting Reagan, whom Berle said gave aid to the pro-gay GOP group's founders as California governor in the 1970s.

"It is unfortunate that the image conservative America is seeing today of LGBT people is of gay leftists misbehaving at the White House, rather than the millions of patriotic, decent LGBT citizens, many of whom, like Log Cabin Republicans, hold President Ronald Reagan in high esteem," Berle said. "These photographs have hurt our community and make advocating for inclusion and equality more difficult. The participants should be ashamed."
… and so has the White House:
"While the White House does not control the conduct of guests at receptions, we certainly expect that all attendees conduct themselves in a respectful manner. Most all do," Shin Inouye, a White House spokesman, said. "These individuals clearly did not. Behavior like this doesn't belong anywhere, least of all in the White House."