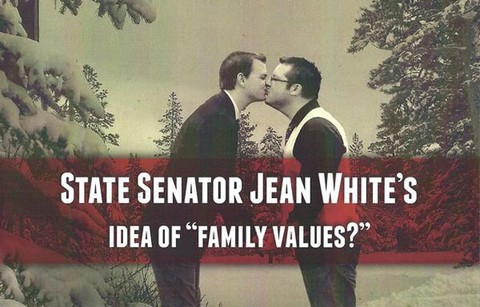 This is heinous: the DC-based conservative group Public Advocate of the United States snatched a photo of gay couple Brian and Tom's New York wedding and photoshopped it into an attack ad against Colorado State Senate Jean White, whom conservatives loathe for her advocacy of same-sex civil unions.
Brian offers his thoughts on the unauthorized use of his and Tom's image at their blog, The Gay Wedding Experience.
[The original picture] is a reminder of the happiness I felt the day he proposed to me and of the excitement I had all throughout our engagement. It represents hope and it represents love. Or at least it did…

Now I see it faded and brown with a big red, blood-emulating slash across our bodies.  It cuts us in half just below our hearts. How do I feel?

I'm in shock and I'm angry and I'm hurt and I'm flabbergasted and I'm livid.

…I can't help but feel the need to warn other LGBT couples that hey, even after you overcome your fears of coming out to your families and friends and coworkers; even after you graduate and leave that hell-hole of a high school, where every single day you feared for your life; even after all the letters to your senators and the countless marches that eventually won you and your state the marriage equality you deserve; even after you find your soul mate, get engaged and then married… someone, a stranger, will seek out your image on the internet [and] steal it and use it in an attempt to destroy others who support you.
It's worth noting that despite its innocuous seeming name, the Public Advocate of the United States is listed by the Southern Poverty Law Center as a "hate group." Now you understand why.
See Brian and Tom's original wedding picture, taken by Kristina Hill, AFTER THE JUMP…