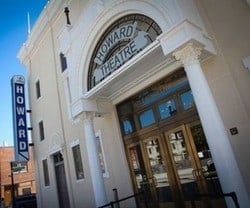 Police in Washington DC are treating a Tuesday night stabbing as a hate crime.
According to the Washington Blade, two men and one woman were arrested after allegedly stabbing a 16-year old man outside the District's Howard Theatre while shouting anti-gay slurs.
A police arrest affidavit filed in D.C. Superior Court says a witness reported seeing Ali Jackson stab the victim in the left bicep, lower back, and left leg after Campbell grabbed the victim from behind and held him in a "headlock." The affidavit says Alvonica Jackson assisted [Desmond] Campbell in holding the victim against his will as the stabbing took place.

While the three defendants approached the victim, Ali Jackson "made several homophobic slurs directed at the [victim]," the affidavit says.

The victim "produced a can of pepper spray and sprayed all three defendants, who fled the location after being sprayed," the affidavit reports the witnesses as saying.
The unidentified victim was treated and released from Howard University hospital. The accused stabbers face a court hearing tomorrow.