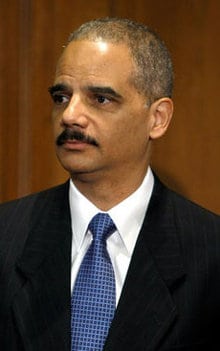 Attorney General Eric Holder made history today, and unlike his vow not to defend the discriminatory Defense of Marriage Act, this accomplisment is not worth celebrating.
For the first time ever, the House of Representative voted 255-67 to a sitting Justice Department head in criminal contempt. In Holder's case, it's for his refusal to turn over documents relating to the Fast and Furious gun-running scandal that was sparked by the death of a border agent named Brian Terry. According to CNN, nearly all of the House Republicans voted "yea" and were joined by 17 Democrats.
Holder doesn't seem too stressed about the being held in contempt. He described the vote as "the regrettable culmination of what became a misguided — and politically motivated — investigation during an election year."
"By advancing [this case] over the past year and a half, Congressman (Darrell) Issa and others have focused on politics over public safety," said Holder.
"Instead of trying to correct the problems that led to a series of flawed law enforcement operations, and instead of helping us find ways to better protect the brave law enforcement officers, like Agent Brian Terry, who keep us safe — they have led us to this unnecessary and unwarranted outcome."