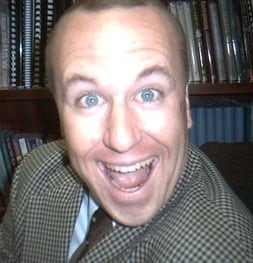 Alan Chambers has been trying to revamp the image of Exodus International, the Christian group that for over three decades used its evangelical networks to promote "reparative therapy" they claimed could "cure" homosexuality.
With more doctors and organizations come out against such approaches — one of the "ex-gay" movement's long-time proponents, Robert Spitzer, denounced his previous studies and apologized earlier this year  — Chambers realized he and his colleagues needed to take a softer approach, an approach he says will be center stage at Exodus' annual conference this weekend.
Via MSNBC:
This week, 600 Exodus ministers and followers are gathering for the group's annual conference, held this year in a Minneapolis suburb. The group's president, Alan Chambers, told The Associated Press on Tuesday that the conference would highlight his efforts to dissociate the group from the controversial practice usually called ex-gay, reparative or conversion therapy.

"I do not believe that cure is a word that is applicable to really any struggle, homosexuality included," said Chambers, who is married to a woman and has children, but speaks openly about his own sexual attraction to men. "For someone to put out a shingle and say, 'I can cure homosexuality' — that to me is as bizarre as someone saying they can cure any other common temptation or struggle that anyone faces on Planet Earth."
Chambers admits that he's still attracted to men, but finds solace in his marriage to an "understanding" woman and thinks others like him can find a similar way to "reconcile" their innate desires with external religious influences.
The anti-gay activist obviously wants to bolster his and his group's public image, but Wayne Besen from Truth Wins Out notes that Exodus' underlying philosophy still wreaks havoc.
"We appreciate any step toward open, transparent honesty that will do less harm to people," he said. "But the underlying belief is still that homosexuals are sexually broken, that something underlying is broken and needs to be fixed. That's incredibly harmful, it scars people."
Besen also told MSNBC that TWO will soon unveil a new campaign to pressure lawmakers into banning reparative therapy for minors, just as California's Senate did last month.