Gad Beck (pictured as a child, with his sister), activist and the last known gay Jewish survivor of the Holocaust, has died in Berlin at the age of 88, the Jerusalem Post reports: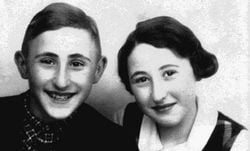 Perhaps the single most important experience that shaped his life was the wartime effort to rescue his boyfriend. Beck donned a Hitler Youth uniform and entered a deportation center to free his Jewish lover Manfred Lewin, who had declined to separate himself from his family.
The Nazis would later deport the entire Lewin family to Auschwitz, where they were murdered.
Speaking about his life as a gay Jew, Beck invoked a line frequently cited about homosexuality: "God doesn't punish for a life of love."
Beck is survived by his partner of 35 years, Julius Laufer. Read his full obituary at the link below.
Last gay Jewish Holocaust survivor dies [jerusalem post]