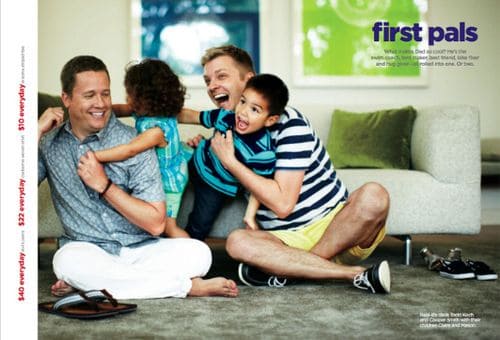 Like so many corporations across the country, retailer JCPenney is sending contingents of LGBT employees and allies to march in their local pride events, including the one going down in New York City.
But it won't only be the retailer's staffers parading down the Big Apple: JCPenney has invited Cooper Smith and Todd Koch — the gay dads famously featured in the company's catalogue and later protested by conservative groups — to walk alongside them.
"When we were asked by JCPenney's LGBT employee group to be part of their float at NYC Pride, Todd and I immediately said yes," Smith told GLAAD. "Just as they as a company have honored families like ours, we consider this our way of honoring them and the hundreds of employees who are planning to take part. We're so proud of JCPenney for including families like ours in their celebration of parents and showcasing the diversity of the American experience."
Considering JCPenney's pro-gay politics and their refusal to negotiate with anti-gay activists, there's little doubt the national company will be nominated for one of GLAAD's upcoming Amplifier Awards, which honor inclusive advertising.